GiftHulk has the Search and Win, though the searches are much more random than Swagbucks. There is no "hey it's a good time to search, because I got doubles" type thing. You search, you might win. Like all the other sites you earn points, and these are called "Hulk Coins" or HC for short.
For daily earning opportunities, they have a daily poll for 1HC. They also have the "Treasure Box". You start with 5 permanent keys that you can use every day. The Treasure Box resets at 11pm CST every day. If you get active referrals who earn 50HC or more, you get extra permanent keys. You can also get them from the Treasure Box or Searching. I've gotten quite a few permanent keys from the Treasure box now. All of your Earning options are accessed by mousing over the "Earn" link at the top.

On Searches and Treasure Box, you can also earn store discounts, offer wall "boosts" (more coins % per offer), Amazon gc's, Fountain of Youth codes that give you Hulk Coins and you can share them with others and you can earn more bonus Treasure Box keys that are good for that day.

GiftHulk is slower, because sometimes you don't win anything on searches or treasure box, but you at least get 1HC per day if you do the daily poll. However, unlike Swagbucks and SuperPoints, you earn a percentage of your referrals wins forever, 20%. While it is slower, it
has excellent earning potential for how much time you spend on the site.


I recommend searching every couple hours, and I have received Search Wins up to page 4 while I was looking for something specific, so you can look through a couple of the search pages and possibly win. I have won anywhere from 2HC's, to 40 HC's, so you can win a lot from searching. When you do get a Search Win, you will always need to enter a Captcha. So be on the lookout for this when you're searching. A box will pop up on the screen and if you cannot figure it out, you can "recaptcha" it and choose another Captcha, or you can have it read out the Captcha to you. Once you've entered it in the box, click "Add to my Account" and you should see "Entered Successfully". If you entered the Captcha incorrectly, or if it timed out because you took too long you will get a popup "Incorrect Captcha SOL"...now, I'm just assuming is means "Sorry Outta Luck" or at least something along those lines *wink*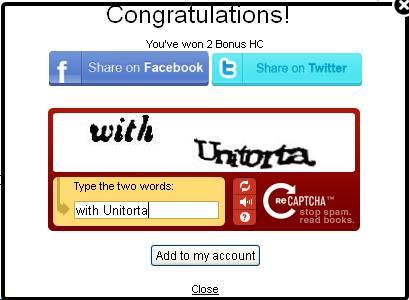 Like all of the other money-maker sites out there, GiftHulk has the usual offer walls, though they're listed differently. They are listed from Wall#1 to Wall#9. You can do the usual surveys, watch videos, download offers, pay offers, etc. What I like about the GiftHulk offer walls is that you can get more points if you have an Offer Wall bonus that you won from the Treasure Box or a Search. If you're going to do an offer, I recommend doing your Treasure Box turns first, and trying a couple searches as the Offer Wall bonuses come out pretty regularly for me, often at least once a day.

GiftHulk also has GHTV available now.
(PLEASE NOTE: Not currently available for Canadians)
This is like Swagbucks where you watch a certain number of videos and get points. In this case you watch 10 videos, and you get 2 HC. For more information/my thoughts on GHTV, check out this post Here
When you join GiftHulk, you automatically start with 50 HC. PayPal is 599 points and there is no limit like 5 x 5 like prizes. They do their payouts every Sunday and you must redeem on Saturday to get it on Sunday. Another bonus is the store discount. You can win a discount from the Treasure Box and this gets automatically applied to the whole store. If you get a 10% discount for 5 hours, you have 5 hours to use the discount on any item in the store, but only one. I have gotten a couple of these now, so they do come up. Once you are at the cash-out level, consider waiting until Saturday to cash out, because you might get a discount before then.

I hope that this helps you all out, and if you'd like to join GiftHulk, consider joining my team. If you do, enter "moneymakersandsavers" into the Fountain of Youth for a 15HC bonus. (Please let me know if this is gone, as it only has limited uses).

All the best!
Debbie ~ CMMnS




Canadian Money Makers and Savers

is licensed under a Creative Commons Attribution-NonCommercial-NoDerivs 3.0 Unported License.
Based on a work at http://moneymakersandsavers.blogspot.ca