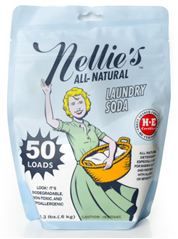 Hey CMM&S fans! Recently I was chosen to be one of the lucky bloggers who received a full-sized sample of
Nellie's All Natural Laundry Soda
to try out and review.
More than a few years ago I switched from powder laundry detergent to liquid as I constantly had the powder residue left on my clothes. This was with Tide, Sunlight, and other no-name brands and all of them left a powdery substance on my clothes, even if I used the correct measurement. Some of these powders also made me itchy and the scent was overpowering.
Over the last few years I have used Tide, Sunlight and most recently Purex liquid laundry detergent, so Nellie's Laundry Soda is the first powder I've tried in years.
I was super excited to try this product, as I'm the sort that is hesitant to switch from my usual brand unless there is a very good sale, coupon or a sample. In fact, sales, coupons and samples have lead me to switch from my usual brand for many of the products we use in our household. For example I was able to stack coupons for Finish Quantum (stacking no longer available) to get it free, and I was previously a Cascade powder user, but the Finish Quantum was way better, even though more expensive. I will continue to purchase Finish Quantum now because it's simply a better product in my opinion.
From the website, the Laundry Soda description is as follows:
"The scent of clean laundry you're used to may be caused by nasty chemicals (what's the deal with that?!). So why not discover the true smell of naturally clean clothes with Nellie's Laundry Soda? It's hypoallergenic, and leaves your clothes soft, fresh, and residue free. It's also super-duper concentrated, so only one tablespoon per wash is needed, even in large loads.***Ingredients: Sodium Silicate, Coconut oil based surfactants***"
From their FAQ:
Q. How do I use the Laundry Soda?
A. For best results use one tablespoon of Laundry Soda per LARGE wash load. Wash according to the specific instructions on your garments. Make sure to always test first on garments that may bleed or fade. Nellie's™ Laundry Soda dissolves quickly in cold or hot water.
To put the Laundry Soda's claim to the test, I did a couple loads of laundry. One load included one of my nice comfy pyjama tops (100% cotton) with a chocolate stain on it that had sat a week. It's an older top, so I didn't mind "sacrificing" it to the test.
Is Nellie's All-Natural Laundry Soda Residue Free?
Since I hadn't tried powder laundry detergent for quite some time, I was worried that this would leave the same residue that made me switch from power to liquid. Thankfully, and happily after doing two loads of laundry, I could not find any residue on my clothes at all, which is a big plus.
How does Nellie's All-Natural Laundry Soda smell?
There is no overpowering scent at all. All of my clothes had a different smell, but all of them smelled nice and clean. There were no lingering "sweat" smells on my 12 year old's shirts and my towels did not smell musty or dirty. This is way different than I'm used to, because all the other products I use have a very distinct smell where all of my clothes had that particular smell to them. It was actually rather funny as I was doing a "sniff" test of all my clothes. I can definitely say I didn't smell any particular bad odor.
Did

Nellie's All-Natural Laundry Soda leave my clothes soft and fresh?
I didn't notice any difference between how my clothes felt after washing with Nellie's and washing with my other laundry detergents. My clothes felt soft and were not stiff at all.
Can

Nellie's All-Natural Laundry Soda be used in cold water?
Absolutely! I didn't have any problems with the soda dissolving in cold water. In our home we ALWAYS use cold water, regardless if the product says it's meant for cold water or not and didn't have any problems. We do not have a front loader or HE machine, but a regular machine, but Nellie's does say it's safe and friendly for HE and front loading machines.
Did Nellie's All-Natural Laundry Soda get the chocolate stain out of my pyjama top?
No, unfortunately not all the way. It got most of the small spots out, but I had actually rubbed in the stain because I wanted to see how powerful Nellie's was. It did get out the majority of the stain without pre-treating it with stain remover and after it sat on my pyjama top for a week. I haven't since tried re-washing it, but I think I will try it again and see if multiple washes without pre-treating will get the rest of the stain out. If it doesn't I will try a stain remover and try again.
My overall impression about the product?
I really like this product. I think it did a great job cleaning my clothes and handling the stain test I gave it with one wash for how long the stain sat with no treatment and rubbing it in. It did not leave residue on my clothes and I did not get any negative skin reactions from the soda. My clothes felt soft, smelled clean and were not stiff. Compared to other laundry products I've tried before it is better than other powders I've tried and it is comparable to liquid laundry products I've tried, but doesn't have the overwhelming smell you can get with other detergents. I also believe in supporting Canadian companies and I think I would buy this product. I'd love to see this in a WalMart or an RCSS to buy, but there are some options that I could check out in my city.
How much does Nellie's cost?
You can purchase it directly from their website for $9.99USD per 50 load bag, $18.99USD for 100 loads or $124.95USD for their 1101 load bucket. Shipping is $7.95 for orders under $100.00 and $15.90 for orders over $100.00. You can make your purchase directly via PayPal or by VISA or MasterCard. They ship within Canada and the US. You can also check to see if Nellie's is available where you live by checking out their retailer locator.
50 loads including shipping - $0.36 per load
100 loads including shipping - $0.27 per load
1101 loads including shipping - $0.13 per load
What other products does Nellie's carry?
Dryerballs - (I'd LOVE to try these)
Fragrance Sticks for some versions of the Dryerballs if you want scent
Oxygen Brightener
Dish Nuggets
You can view their
website
to check out all the details of their products.
This review is my personal opinion and was not influenced in any way by Nellie's All-Natural. I received the product in question in return for my honest review.
Canadian Money Makers and Savers
is licensed under a
Creative Commons Attribution-NonCommercial-NoDerivs 3.0 Unported License
.
Based on a work at
http://moneymakersandsavers.blogspot.ca/