Hey Swagbucks fans!
Swagbucks
is continuing on with their special "Daily Goal" for the month of July!
This time, it's going to be a month-long promotion where you can win 10% of your "Daily Goal" plus get up to an extra 300 SB for completing the Daily Goal every day of the month! With vacations and sometimes high goal requirements like getting 120 SB per day, this might be difficult for the more casual Swagbucks user that doesn't get to complete a lot of surveys, special offers or SBTV.
However, they also have smaller goals to shoot for if you won't be able to make it every day.
7 Straight Days: 25 SB + Daily Bonuses
14 Straight Days: 100 SB + Daily Bonuses
21 Straight Days: 200 SB + Daily Bonuses
Full month: 300 SB + Daily Bonuses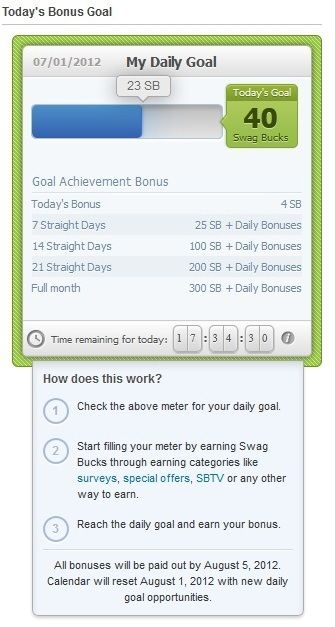 Even if you're only a casual Swagbucks user that makes a few Swagbucks here and there you can still earn some bonus Swagbucks for completing a single day's goal. Today's goal of 40 SB is a nice and easy goal and by reaching the goal you will receive an extra 4 SB at the end of the promotion. If you make a few of the daily goals you will end up with
All bonuses will be paid out by August 5th, and a new daily goal opportunities will start on August 1st.
If you're wondering where your bonus bucks are for the June promotion, they will be paid out by July 5th! Let us know how if you completed the goal every day, and how many Swagbucks you're expecting?
Want to know how to maximize your Swagbucks earnings daily? Visit my
Swagbucks Tips
page.